It is a fact: we all lose weight from different areas of our body at different rates. For some, the stubborn fat on their arms and thighs is gone before they can even say goodbye. For others, it is their belly fat that stays put. Why is belly fat the last to go?
It is because of something called "visceral fat." This type of fat is found in the abdominal cavity and around your organs and makes up about 30% of your total body fat.
Visceral fat is not just any type of fat. It is also one of the more harmful types since it is linked to many chronic diseases such as heart disease, diabetes, cancer, and Alzheimer's disease.
Weight loss, in general, is difficult enough without worrying about where your weight loss has stalled. If you have trouble losing weight in certain areas, here are some things you can do to speed up the process!
What Is Belly Fat, and What Does It Do?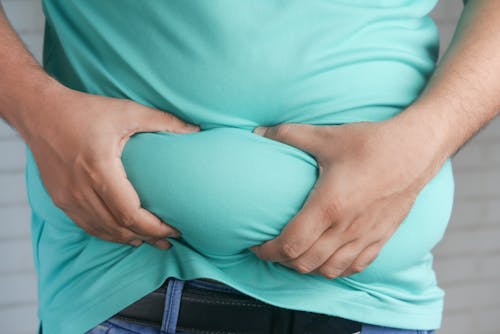 The term "belly fat" refers to the visceral fat found in your abdominal cavity and around your organs. This type of fat is one of the more harmful types. This is because it is linked to many chronic diseases such as heart disease, diabetes, cancer, and Alzheimer's disease.
Side note: "Abdominal obesity," which means a waist circumference greater than 40 inches for men or 35 inches for women, is also a risk factor for these same diseases. The good news? You can reduce your risk for some of these diseases by simply eating a healthy diet!
How Does Belly Fat Differ From Other Types of Fat?
Belly fat is much more dangerous than other fat stored in your body. The worst type of fat for your health is visceral fat or the fat that collects around your organs. It has called visceral because it is found in the viscera or the internal organs.
Visceral fat is also known as intra-abdominal fat. In women, this type of body fat typically gathers in the lower abdomen, beneath the stomach, and above the pelvis. In men, it often builds up around the midsection just above the beltline.
Belly fat is one of the most difficult areas to lose since it is so easy to gain. However, you can break this cycle and prevent belly fat from increasing by burning it through exercise and healthy lifestyle choices.
These healthy choices include:
Eating a diet that's low in sugar, refined carbohydrates, and processed foods
Exercising for at least 30 minutes each day
Not eating after 7pm
Avoiding too much alcohol
Sitting less than 6 hours a day
Maintaining a healthy weight throughout your life
What Can You Do to Lose Weight From Your Stomach?
Losing weight from your stomach is not impossible. You just need to take a different approach to the problem.
This process requires specific diet strategies. Here are some of the best strategies:
Eat smaller meals more frequently
Drink lots of water
Do cardio after you work out
Exercise for at least 30 minutes per day
Avoid fried and fatty foods
Yes, indeed, cutting back on calories will not help you lose weight in your arms or thighs. Nonetheless, it will help reduce the amount of visceral fat in your belly and total body. That means more of your total body weight will be coming from muscle instead of fat.
To start, aim for 1,200-1,500 calories per day. This should be enough to maintain your current weight and lose about 0.5-1 pound (0.2-0.4 kg) a week until you reach your desired weight range.
This strategy is also a good idea if you want to get leaner! You will need to reduce the number of calories you take in and the number of calories you burn to lose visceral fat. You can do this with a combination of diet and exercise – increasing some activity levels while decreasing others.
Why Do Some People Lose Weight Faster Than Others Do?
If you are trying to lose weight, it can be a challenge to find those stubborn areas of fat. However, if you want to speed up the process, here are some things to try!
1. Give your body a break. One way to target the fat on your stomach is to give your digestive system a break from all the food and drink you consume. This will allow your stomach muscles to recover and help burn more calories while you are resting.
2. Add in some exercise into your day-to-day life. Even just getting up and walking around for 30 minutes or taking stairs instead of elevators can help burn more calories and make losing weight easier!
3. Eat fruits, vegetables, and whole grains that contain fiber and water before meals (like oatmeal). This will fill up hungry stomachs with fiber-rich foods that can enhance digestion so that fewer calories are stored as fat later on!
4. Get enough sleep every night so that you have energy for exercise in the morning. Some people find they have more energy when they get enough sleep each night, but this will not eliminate all the hunger pangs or cravings (and overeating) during the day!
5. Keep track of how much salt
Which Type of Belly Fat Is the Hardest to Lose?
Visceral fat is the hardest type of belly fat to lose, so you need to focus on your diet and exercise if you want to lose that bad boy.
If you are trying to lose weight in general, you should also focus on diet and exercise. However, suppose you really want to target your belly fat specifically. In that case, it is best to cut out sugar, processed carbohydrates, and refined grains from your diet.
In addition, a great workout routine will be key for burning off visceral fat. The best workouts for this are those that involve resistance training (like weight lifting) or cardio. You can also try toning up your core muscles with strength training exercises like sit-ups or crunches.
There are many other things that can help speed up the process as well. Think about increasing your fiber intake with fruits and vegetables (and adding more veggies into your meals), drinking lots of water, getting plenty of restful sleep each night, and taking a multivitamin supplement.
What If Your Goal Is to Lose Weight All Over?
If your goal is to lose weight all over, there are a few different ways you can do it.
One option is to simply reduce the number of calories you consume each day. In general, this process takes time and requires a lot of effort from you. Another option is to change your diet plan so that it is more in line with your lifestyle and eating habits.
For example, if you love ice cream and pizza but do not really want to give up on them entirely, you should consider making your own healthy version of the foods that are difficult for you to give up on.
Another option is to exercise more often or eat more protein-rich foods. This will help keep hunger at bay while also burning more calories overall than what you are already consuming – which speeds up the weight loss process!
The Truth About Losing Belly Fat
If you are struggling to lose weight in your belly fat, these tips can help.
The first thing you need to do is stop eating so much sugar and refined carbs. Sugars and refined carbs cause a spike in blood sugar that causes insulin production, which leads to fat storage around the abdominal area. Additionally, refined carbohydrates lead to hunger and appetite, which are both factors that contribute to weight gain.
One of the best ways to combat this is by replacing sugary foods with vegetables. You need a lot of fiber in your diet – from fruits and vegetables – so you do not get hungry as often. Fiber also helps prevent sugar cravings!
If you are trying to lose belly fat, avoid processed foods — they are full of preservatives that make it difficult for your body to break down food, leading to more fat storage. The key is quality over quantity since processed foods generally contain more calories than natural foods with fewer ingredients.
Drink more water if you want faster results, and do not mind giving up dessert for a while! Water helps flush out toxins in your body that can contribute to weight gain and bloating. It can also help curb your appetite and make it easier for your digestive system to function properly.
Is Belly Fat The Last to Go?
Many people think that belly fat is the last to go, but this is not true.
However, visceral fat tends to be more stubborn when it comes to weight loss. This means you might have a hard time losing weight from your belly if you have tried dieting and exercising before.
Why Does Belly Fat Linger?
One of the main reasons why belly fat may not go away is because it is more difficult to target than other areas of the body. For example, you cannot exercise your abdominals as much as you would your arms or legs, so it is harder for the body to burn off that visceral fat.
Other factors that contribute to not losing weight from this area include hormonal imbalances and internal inflammation. If you have a bad diet or if you eat empty calories, it will be harder for your body to lose weight from this area.
It is also important to note that there are no easy solutions for losing belly fat. If you are struggling with visceral fat, consider working with a therapist or nutritionist to figure out what diet and lifestyle changes work best for you!
Frequently Asked Questions
What is visceral fat?
Visceral fat is a type of fat found around your organs and in the abdominal cavity that makes up about 30% of your total body fat. It is not just any type of fat – it is also one of the more harmful types since it is linked to many chronic diseases such as heart disease, diabetes, cancer, and Alzheimer's disease.
What are some reasons why belly fat can be harder to lose than other parts of the body?
One reason could be that you have less muscle in your arms or thighs to help burn off visceral fat. You could also have fewer brown adipose tissue cells in your belly that burn calories.
Your diet may not contain enough fiber, which helps break down foods and move them through the intestines, where they are then slowly digested with fiber extracting energy from food before it passes through to other tissues.
Are there things I can do to speed up weight loss in my belly area?
Yes! One thing you can try for a quicker weight loss result is to take an apple cider vinegar supplement daily for a few weeks until you see results. This will cause your stomach acids to increase, which will help break down food faster, so you will be able to burn more calories and lose belly fat faster.
Why is belly fat the last to go?
Visceral fat is the final frontier in weight loss, so it tends to be the hardest fat to get rid of. This is because when you have it, your body cannot see anything else as being more important than burning visceral fat. Visceral fat is also harder to shift because of its location deep within your organs and body, which means it is harder for your body to burn calories from visceral fat than from other types of fat.
What are some best practices for getting rid of belly fat?
Maintaining a healthy diet and exercising regularly are key factors in losing belly fat. You should try to consume healthy fats such as olive oil and avocados for their nutrients rather than high-calorie foods rich in sugar and saturated fats.
Additionally, consider adding protein shakes and other supplements that contain branched-chain amino acids (BCAAs) into your diet – these amino acids aid in weight loss by stimulating muscle proteins while boosting natural energy levels!
How long will it take me to lose belly fat?
This really depends on how much visceral fat you have, but expect it to take anywhere between six months and two years.
Conclusion
Many people consider belly fat to be the last to go. This is because belly fat is most visible, while other types of fat are more difficult to see. However, if you diet and exercise regularly, it is not necessarily true that your belly is the last to go.
Everyone wants to get rid of his or her belly fat — and for a good reason. But in reality, it can take a considerable amount of time for your stomach to lose weight. In some people, it may take up to 3 years.
So, if you are still carrying a little extra weight in your middle, do not worry! You are not alone.